Just two days back sathik guys released 4.0. However they were the modified epplevpn servers. Now they have come up with the modified servers of ovvpn. However to tell you the truth sathik vpn 5.0 works. I have a better config file and the real ovvpn but I have kept that for desperate times. Till then you've have the sathik or whatever they say it to be. Those guys cannot afford a decent
domain name
. However come to the trick.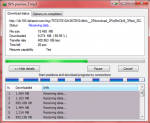 here is my downloading screenshot ..........
Friends, SATHIKVPN 5.0 is working very fine in
tamilnadu
, kerala, Haryana... State .. .. its working for me 2 ... m getting 300 kbps+ in downloading. You can very well go to the website and post the share comment on not 5 but 50 friends walls but you'll not get it. Or you can go below and get the sathik vpn and enjoy net without disconnection. Its your choice. I am not forcing anyone and it would be better for me if less people
download
and use it as its a very good working trick and I sincerely wish it not to be blocked. I see that you guys are facing the tcp problem. I have a solution for that and hope that it works for you too. Just download the latest windows loader given below and the problem should sort itself out. http://www.mediafire.com/?aaz59snq9na646o. Also try the config with the latest open vpn version and not with epplevpn or nmdvpn. In short copy paste the config file from here to the open vpn custom header. Then run open vpn as administrator and connect with airtelgprs.com as
access point
and it'll be connected without any problems.
DOWNLOAD SATHIK VPN 5.0 AIRTEL
--
Visit my blog